Bull kelp forests (Nereocystis luetkeana) are important habitats for all types of marine animals. Endangered and threatened species, such as pinto abalone and yelloweye rockfish, depend on bull kelp forests for shelter and nutrients.  Animals critical to the food web, such as herring, use bull kelp forests for protection and food during certain life stages.
VIDEOS
Here are some short videos of a few of the amazing species that live in bull kelp.
BOAT-BASED SURVEYS
Island County MRC conducts annual boat-based surveys of selected beds (see map below). Using handheld GPS units and small boats, volunteers map the perimeter of beds and collect accessory data such as water temperatures and bed depth estimates.  These monthly surveys occur during the bull kelp growing season at a zero-foot tidal height.  In addition to mapping, surveyors also record observations of animals using kelp beds.  Data are shared with the Northwest Straits Commission for comparison with similar information collected by other northern Salish Sea counties.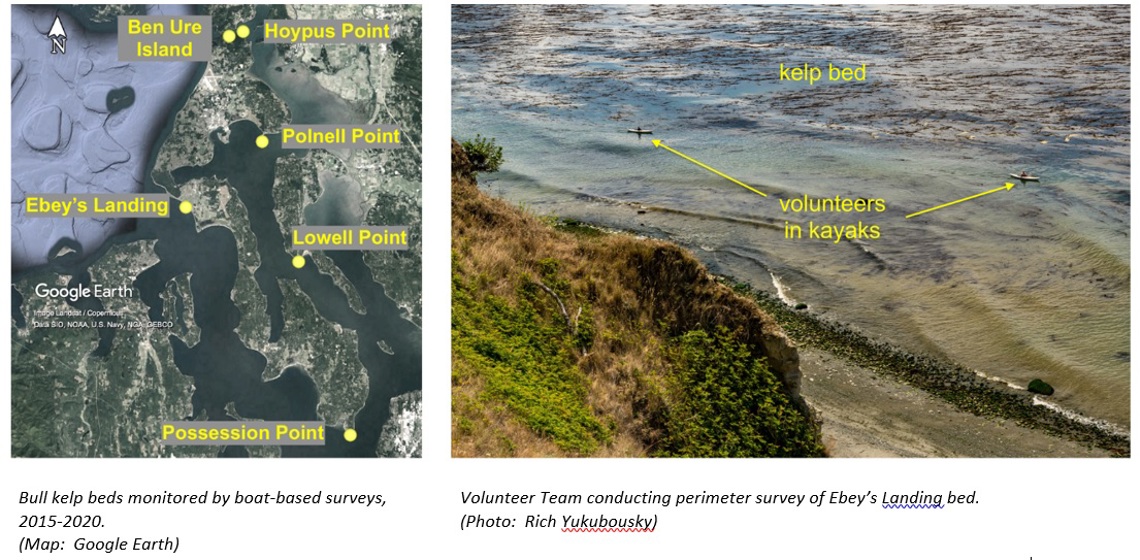 BOAT-BASED OBSERVATIONS
Except for Ebey's Landing, beds were delayed in monthly growth when compared to 2019, but more similar to growth observed in previous years.  (2019 was a very good year for bull kelp in Island County.)  The Lowell Point bed was much smaller than measured in previous years, and we hope this is not a continuing trend for this bed.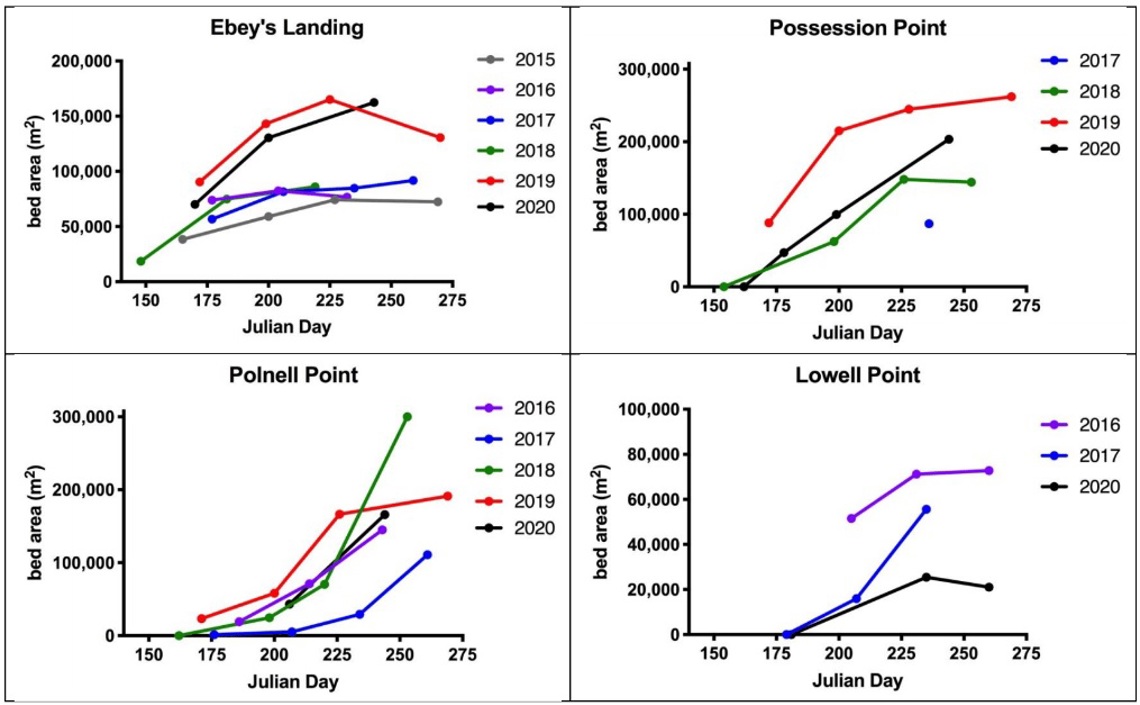 Water temperature and salinity are physical factors that can affect bed growth and persistence.  In 2020, surface water temperatures in all of the beds remained well below a threshold temperature that is known to impair kelp success (17°C, red dotted line on temperature plot). Salinities at Polnell Point are lower, due to outflow from the Skagit River.

In 2019 and 2020, teams at Possession Point frequently measured temperatures at the surface, midwater, and bottom from May through September.  Although the 2019 surface temperatures spiked higher in August and September (left plot), the 2020 midwater and bottom temperatures were higher in July (middle and right plots, respectively).

AERIAL SURVEYS
Using both visible light (RGB) and near infrared (NIR) in aerial photographs improves identification of bull kelp. These paired images show bull kelp at Hoypus Point with each method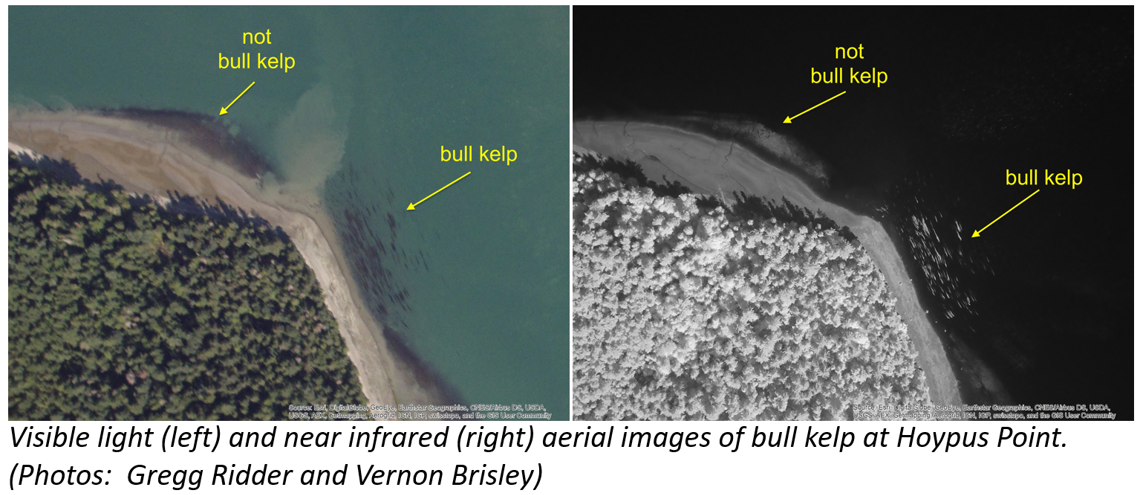 The amount of Island County shoreline with associated bull kelp is estimated by photographing the nearshore at a low tide in late August or early September using matched RGB and NIR cameras.  Thousands of these matched images are manually examined to mark adjacent shore. The shoreline is mapped using Google Earth, shown on the map for 2019 (below left) where shoreline with associated bull kelp is in red. Aerial surveys were conducted and analyzed for three years (2017, 2018, 2019).  Although the miles of associated shoreline in Island County varied by region over the three-year period, there may be a slight decline overall. Use of this type of aerial imaging could provide an annual "snapshot" of bull kelp abundance.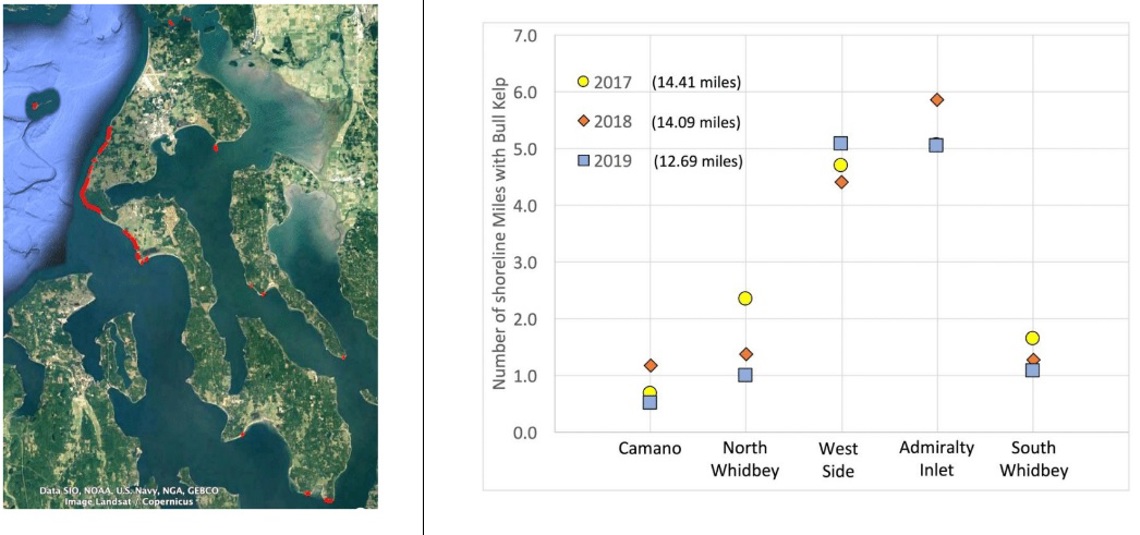 ANNUAL PROJECT REPORTS