The Pigeon Guillemot is the only member of the alcid family to nest in Island County. It is considered an indicator species of nearshore health, since this bird feeds heavily on forage fish and other small marine creatures it catches by diving beneath the surface.
In partnership with Whidbey Audubon Society and Washington Audubon, in 2004 we embarked on a multi-year survey in cooperation with the Guillemot Research Group (GRG) to assess Pigeon Guillemot populations, nesting colonies and breeding success on Whidbey Island. A summer intern carries out extended observations. In addition to the extended observations conducted by this intern, many GRG volunteers also monitor the breeding colonies and conduct shorter-term observations. Frances Wood of our committee and Phyllis Kind, who formerly served on the MRC, work closely with the intern and also with the volunteer teams who supplement the intern's work with much additional data.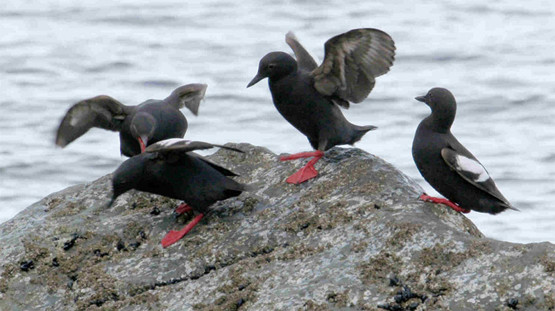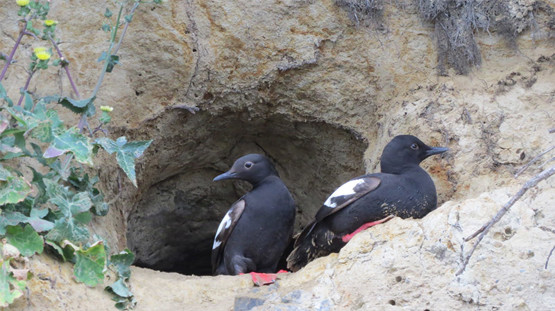 Every summer this citizen-science project trains about 30 volunteers to visit 23 active Pigeon Guillemot colonies. The colonies vary in size from 15 to 134 birds. During 2006 the teams found more than 800 birds in the colonies, but only 150 active burrows, so only about 1/3rd of the birds attempted to breed.
In May and June, Pigeon Guillemots visit the burrows frequently and some incubate eggs. By the end of June, the teams typically observe activities associated with young in the burrows - adults delivering fish to them. Since the young fledge at night in late July and August and quickly disperse beyond binocular range after fledging, very few juvenile birds are observed from shore. In 2006 the teams surveyed by boat in August and September and observed 35 juveniles, usually several hundred feet offshore at water depths of 40 to 100 feet.
Project Reports