Port Susan Marine Stewardship Area (1)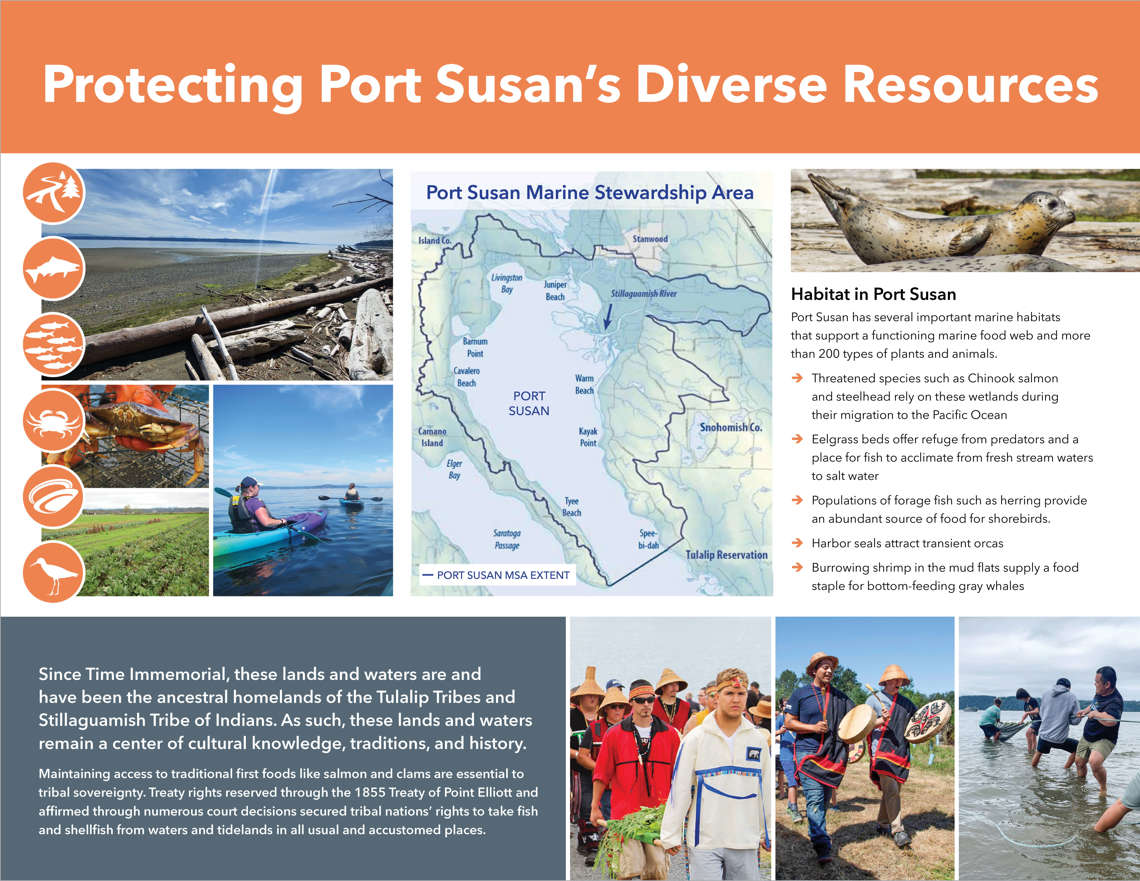 Port Susan is located between Camano Island and northern Snohomish County. In 2012, prompted by a shared regionwide vision to protect important marine resources, Snohomish and Island County MRCs and a collaboration of partners representing tribes, local governments, nonprofit organizations, and state and federal agencies, created the Port Susan Marine Stewardship Area Conservation Action Plan (CAP).
Over the last 10 years, considerable work has been put into maintaining and restoring Port Susan, one of the Salish Sea's last remaining ecological hotspots and a refuge of biodiversity. A new online StoryMap, located on Snohomish County's Marine Resources Committee website, celebrates this comprehensive multi-agency effort, and highlights key restoration actions in Port Susan. Through interactive maps, illustrations, videos, and text in the StoryMap, viewers can learn about restoration projects, public education and outreach programs, research and scientific monitoring, and collaborative programs that meet conservation-focused goals aligned in the region's Conservation Action Plan (CAP), —and understand where more action is needed. Viewers can further explore the level of progress made in a revised Progress Tracker; additional materials from the ten-year plan assessment can also be found on the updated Port Susan Marine Stewardship Area webpage.
Highlights of Port Susan conservation progress since 2012:
523 acres of river delta restored (more than 2.5 times the 10-year CAP goal)
Fish access restored to 1.75 miles of streams; this is crucial for threatened Puget Sound Chinook populations
Nine shore-friendly workshops hosted, that helped educate more than 500 participants.
100 site visits to assess options to reduce shoreline hardening.
The CAP serves as a planning tool outlining conservation targets, threats, and strategies to achieve conservation goals, centered around species and environments most in need of protection in the voluntary Marine Stewardship Area. The plan outlines objectives and the necessary strategic actions to improve key species and habitats: the river delta, Chinook salmon, beaches/forage fish, Dungeness crab, shellfish and shorebirds.
"These target species and habitats are integral to our region, and it's promising that we've made such great progress in certain areas," said Elisa Dawson, Snohomish County Surface Water Management (SWM) Senior Planner. "Maintaining the health of Port Susan is an ongoing process that will involve collaboration among government agencies, tribes, landowners, conservation partners, and the community alike."
Over the next ten years, partners will continue working to increase the resiliency of the Port Susan ecosystem. Current and future actions include salt marsh restoration, monitoring and research on fish, seals, and bird population, shellfish enhancement, and promoting best management practices with shoreline landowners.